News
April 17, 2018 - Slight Update to some old routes
Hadn't touched this site for over a year now... Wow.

Anyways, for all of you that still use my age-old routes of the Peel Godred Branch, Culdee Fell, Mid-Sodor and Arlesdale Railways, I would like to announce I went in and got rid of all the assets I got from now-defunct sites (including Si3D), and replaced most of them with stuff you will find on the DLS.
Now you should be able to run the routes with as little missing dependencies as possible. If you do get any more missing dependencies from the updated routes, more likely they're one of the Nekolai animated people or G: tree assets which should still be up for download somewhere on the internet. If you do end up with a missing dependency that you can't find, let me know and I'll see if I can fix it.
If you're wondering when I'll go in and remake these routes entirely from scratch, the simple answer is no. I don't think I'll do another Thomas-related Trainz route ever again, now that I have my time focused on other things in and out of Trainz.
If you do want to go in and modify the routes I made and make them better, then you have my blessing to do so, and if you do intend to release them, they must be done so here. Provide me the download link and I'll post it on this site. Just be sure to credit me and SRB if you modify my routes and use them in Trainz movies.
Thank you.
Nicholas (Nictrain123)
April 14, 2017 - New Affiliate Site, The Whistle Works
Wow, it's been a while since I last posted here, hasn't it?
Anyways, I would like to announce that I am making a brand-new Trainz site called "The Whistle Works." On this site, you will find high-quality whistle and enginesounds I make for Trainz locomotive, usually recorded from the original prototypes, allowing the gameplay of these engines to sound much more realistic when driving them in Trainz, enhancing your experience.
I am currently fixing up the site, but its pretty much done enough for you to go on and see whatever I have on there currently up. I'll be adding a few new whistlesounds on there, and I'll be moving the whistlesound links I already have on here (non-TTTE affiliated), onto the new site with updated links.
So go check out the site and try out what we have, you might find some whistlesounds from your favorite locomotive on there! ;)
https://thewhistleworks.jimdo.com/
Nicholas (Nictrain123)
September 26, 2016 - 2010 Duncan Face Pack Released
What is this? Me being the only one to do updates to this Website?
Anyways, I've made, and released my own 2010 Style Face Pack for WildNorwester's RWS Duncan Models, as I didn't like BRstandard's own Face Pack for said Character, for the eyes look bad in quality, and a few faces were missing from the pack.
So if you wanted a better Face Pack for WildNorWester's Duncan Model's, then I suggest you download mine.
Download link can be found at The Accessories Page Under "Face Packs".
Eric (TheGrey61xx)
May 3rd, 2016 - Small Grey61xx Style Ffarquhar Yards Update
UPDATE: Added a few things to the route, such as a Signal, a Signal Box and a Coal Stage, so redownload the route of you downloaded it already.
Download link can be found at The Routes Page under "Eric T's Routes".
Eric (TheGrey61xx)
June 2nd, 2016 - The Ducks have landed
Here's a whistlesound I have been meaning to release for a while, one for the GWR 57xx Pannier 0-6-0 tanks, recorded from No. 3738, which can be used for any model of the 57xx in Trainz, including our favorite little "quacker" from Sodor.
Nicholas (Nictrain123)
May 2nd, 2016 - Grey61xx Style Ffarquhar Yards
A little something I made in a few days. A Diorama Route of Ffarquhar Yards done as a Hybrid of RWS and CGI Versions, plus The TVS Style Crossing Mavis got stuck at.
This can be useful to those that want to do a Trainz Remake out of a CGI Episode.
Download link can be found at The Routes Page under "Eric T's Routes".
Eric (TheGrey61xx)
March 28th, 2016 - Model/CGI Henry Face Pack
Another Custom Face Pack has been released. This time, it's Henry the Green Engine in a Model/CGI Hybrid.
Can be used for WildNorWester's RWS Henry Models. Not sure if it can be used for Sean's 2010 Henry Models. You'll have to ask him first.
Download link can be found at The Accessories Page Under "Face Packs".
Eric (TheGrey61xx)
February 15th, 2016 - Trainz: A New Era Version of RWS/CGI Thomas Face Pack
For those that upgraded to Trainz: A New Era, but might be having trouble getting my RWS/CGI Thomas Face Pack to work, then I've released a fix for that version of Trainz.
Download link can be found at The Accessories Page Under "Face Packs".
Eric (TheGrey61xx)
February 13th, 2016 - RWS/CGI Thomas Face Pack
It's been year since the site was last updated, so what better way to dust this site then release Sodor Railroading Builders' First Face Pack for Thomas in a RWS/CGI Hybrid Style.
Can be used for WildNorWester's RWS Thomas Models as well as Luke's (Explosivecookie) RWS Thomas Model.
Look at the Accessories Page Under "Face Packs".
Eric (TheGrey61xx)
March 25th, 2015 - Day Out with Thomas
Today, I give you a special release of a whistlesound of Thomas the Tank Engine, the one that the Strasburg Railroad built for their "Day Out with Thomas" events. It can be used with the brand-new Strasburg Railway Thomas model that just got released. I'm sure you'll find it somewhere.... ;)
Nicholas (Nictrain123)

Feburary 12th, 2015 - It's that time of the year again.....

You know what I'm talking about. Anyways, I've released a few new whistlesounds I've been working on during the past week. Two for Americans, one for Britian. A whistlesound for the LMS Fowler 3F Class "Jinty", recorded off of the Great Central Railway's No. 47406, a whistlesound from the Tanana Valley Railroad's No. 1 Porter locomotive, and last but not least, the Sierra Railroad's #3 whistle recorded from  "Back to the Future: Part III"
Enjoy. :)
Nicholas (Nictrain123)

January 24th, 2015 - BLUEBELLS FOREVER!!!

Thought of doing this randomly last week, this should've been made sooner. Anyways, now released is a whistlesound for the LB&SCR's No. 55 "Stepney" or as we all know him as "Stepney the Bluebell Engine!" Included is a authentic variant of an actual whistlesound from the real engine, with the sound of steam hissing that can be activated by pressing the "B" button for improved realism. Also included is two TTTE variants including Stepney's regular and busy themes from his Season 4 episodes, rendered by Sudrian Afro. His music is almost exactly accurate to the original themes rendered by Mike O'Donnell and Junior Campbell, they are definitely worth checking out. ;)
Nicholas (Nictrain123)

January 10th, 2015 - Baked RWS Skarloey Sheds Updated

The Baked RWS Skarloey Sheds have been updated with better baked textures.

You can download it at The Downloads page in The Accessories Sub Page.
Eric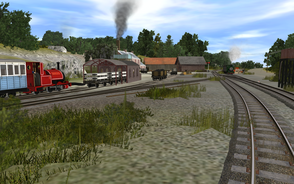 December 25th, 2014 - Merry Christmas!
Now I know I may have said previously that I..."retired" from doing routes, mostly due to a lack of time or interest (and due to some jerk that thought that I had nothing better to do than this), but you know what they say, old habits die hard...
This was mostly done as a test to see how much my route building skills have held up over the years, so as you can see, there's not much improvement but it serves for a public release I suppose. In this release is a one-baseboard diorama of the Mid-Sodor Railway's former "Works" station at Arlesdale. I've done a 2ft.3in. variant as well as a 3ft.6in. for those who enjoy the 2012 version narrow-gauge engines. Also I've done both a "clean" 1920's-era variant as well as a worn-down 1940's era version, along with winter and derelict variants for you holidaymakers and moviegoers. 
Also released on SRB, are a few whistlesounds I meant to upload a while back but had to fix the bugs on first. I've done whistles for the L&YR Class 27/8, Caledonian Railway 812, BR Standard Class 2's and even one for the Snowdon Mountain Railway's No. 6. ;) Unlike my previous whistles where I would put a theme in place of the bell, I instead took idle sounds of the engine (steam hissing, firebox clanking, that kind of thing) and put it in it's place to sound more realistic. I think it's cool for a first try and I will be going with this style of whistlesound editing into the future...well for real engines anyways, TTTE variant hornsounds will still get their appropriate tune.
Now this does not necessarily mean I will go back into route building. And no, I will not be finishing off the entire length of the Mid-Sodor from Arlesburgh to Peel Godred simply because I do not have the time for it, cause I am growing up and have a job at a museum. If and perhaps I get a notion to do a route, please don't pick on me for what routes I "have" to do or what you want, I simply do whatever I'm interested in doing, and that's the way it's going to be from now on.
Now I know how Si3D feels.....

Well, on that note, I will now leave you to enjoy your festive day and I hope all your family and friends do, as well as you.
So, from the team here at Sodor Railroading Builders, we say unto you this day:

MERRY CHRISTMAS TO ALL, AND TO ALL HAVE A GOOD NIGHT!!! AND A HAPPY NEW YEAR TOO!!! :D
- Nicholas (Nictrain123)
December 5th, 2014 - RWS Skarloey Sheds now Baked

Next Christmas Gift for Trainz Users is a Baked Version of The RWS Skarloey Sheds. Had to redo the model in Google Sketchup from starch before baking it in 3ds Max 2012 because there where texture problems where parts on the old version that were black.
You can download it at The Downloads page in The Accessories Sub Page.
Eric
December 4th, 2014 - Tidmouth Hault Shed now Baked

As a Christmas Gift for Trainz Users, I've released Sodor Railroading Builders' First Ever Baked Model, and it's a newer version of The Tidmouth Hault Sheds.

You can download it at The Downloads page in The Accessories Sub Page.
Eric
October 30th, 2014 - 2012 RWS Skarloey Sheds Fixed

There was an error that one of the shapes on the 2012 version of The RWS Skarloey Sheds was out of place, along with some other few errors it had. So I've fixed those issues and the 2012 version should be good now.
But I might consider exporting both 2006 and 2012 versions in either Blender or 3ds Max for baking so that they can look better. So expect to see baked versions of the RWS Skarloey Sheds next month or eariler.
Eric
Update for GWR Autocoach Bell
Fixed the sounds on the GWR Autocoach Bellsound so that it actually uses sounds from the real one. The last version used a higher-pitched Toby's bellsound. I don't even know what I was thinking back then. Ah well, it's in the past now and I think I may look forward to doing City of Truro's whistle sometime soon....
Nicholas (Nictrain123)
And "Soon" it is...
At lightning-fast speed, is released a whistlesound for the Great Western Railway's "City of Truro," a steam locomotive said to be the very first one to go up and over 100 miles per hour. Please enjoy! :D
Nicholas (Nictrain123)
October 29th, 2014 - Titfield Thunderbolt 14xx No. 1401 Whistle
Small quickie from me tonight, a whistlesound for the 14xx class engine with whistlesounds from the one seen in the classic Ealing film "The Titfield Thunderbolt." Can be used with the 1401 reskin that is currently the Download Station. Grab it before it chuffs away!
Nicholas (Nictrain123)
October 25th, 2014 - RWS Skarloey Sheds (2006 and 2012 Sizes) Released
Thought I should do a special Halloween Treat for everyone. A Release of The RWS Skarloey Sheds, in both a 2006 Size and a 2012 Size.
Don't know if this will work in Trainz 12, but if you have problems with working them in that version of Trainz, leave me a message on either The Sodor Island 3D Forums or my DeviantART Account, *TheGrey61xx*
~Eric
September 26th, 2014 - Tornado's Whistlesound Released
In commemoration of the first payware public release of LNER Peppercorn A1 Class Pacific No. 60163 "Tornado," so courtesly released by WildNorWester, here is a release of an authentic whistlesound pack to use for the engine.
Included is both her primary and secondary whistlesound, her Chime whistle (formerly from ex-A4 Pacific No. 4482 "Golden Eagle") and her secondary "Teapot" whistle.
Please enjoy.

Sincerely yours,

Nicholas (Nictrain123)
September 19th, 2014 - Support for Routes Ceased
It has come to my attention that some have asked me for assistance on finding missing KUID's that are linked to my old routes. Unfortanatly, as of the time, I do not have such of the kuid's that I have used for my routes anymore, as the time passes I gain and lose data from my computers with no hope of retriveing it.
Also, as of now I am currently not interested in doing Trainz routes any longer, as I do not have the time or paitience to do so. Trust me, I have attempted to do some "practice" recently, but I was not happy with what I've done and quickly got out of it. Plus, I now have a job and am more interested in other gaming such as Garry's Mod, but I do occasionaly get in and out of Trainz every once in a while, but just to drive the engine or route that gets the occasional release.
I am just not the same man I used to be, once never having anything better to do in life than just making routes and posting them on this site. Whilst some were good and I've seen them last long enough to be publicly used, others have gradually been surplanted by better and more-detailed routes. Therefore, how can I continue doing what I do if only to be knocked off of the stage and religated to second-best?

Therefore I am sorry to say that as of now, I am retiring from my main position of Trainz route builder and I am taking off support of my old content. I will keep the old links on this site for anyone that still cares, but as of now I plan not to release anymore new content. Maybe the occasional hornsound will come every once in a while but nothing more grander than that.
Whilst it may seem that I am not grateful for the support I have gotten over the years, for anyone that thinks that you are greatly mistaken. I have felt glad to be amongst such fine gentlemen to make the routes for you and to see you doing stuff on them and making good use for them. I couldn't have asked for a better audience. But now that the time moves on and that you people have moved on to greener pastures, I watch you all move on and pray that you all will do well.
It was fun and nice knowing you all and I wish you all luck in your future endeavors.
If you wish to continue to watch my works (or whatever little else I do), feel free to look me up on deviantART and see what progress I make there. 
http://nictrain123.deviantart.com/

Sincerely yours,

Nicholas (Nictrain123)
October 19th, 2013 - Updated Theme for Edward Thomas' Whistle
Fixed up the theme for TR No. 4 'Edward Thomas' whistle so you can have better fun listening to the 'Entertainer' theme by Scott Joplin! More whistlesounds to come soon, but for now enjoy!
Nicholas (Nictrain123)
October 1st, 2013 - Metal fence pack.
The metal fence pack has now been released. In the pack, there will be different coloured fences - blue, red, white, green, black, and rusty, as well as their respective fence ends.
John
July 19th, 2013 - Stephen's Whistle
Stephen the "Rocket"'s whistle sound has been released in the add-ons sections. Included with it is the actual whistle from the Polish KOTR, and a part of the theme from the KOTR UK Trailer. Enjoy!
John
July 9th, 2013 - Updated Sodor Brick Wall
Since Sodor Island 3D has updated Henry's Tunnel, I had to update my Brick Wall Models so that they can be long enough to fill in half of one of the tunnels.
So go to the Downlods Page and download the updated Brick Wall Pack.
Eric (GTPS2)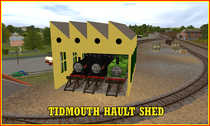 March 6th, 2013 - Tidmouth Hault Shed
Here's a little surprise from me. It's The Tidmouth Hault Shed from Duck's Branch Line, now your's to download.
Eric (GTPS2)
February 4th, 2013 - New Member and Sodor Brick Wall Pack
I would like to say that I (GTPS2) have joined Sodor Railroading Builders, and to celebrate it, I have released my Sodor Brick Wall Pack to the website. Look in the Accessories page in Downloads under Scener.
Eric (GTPS2)
October 24th, 2012 - GWR Autocoach Bellsound 
I have finally gotten back into Trainz after a LONG abscence, and decided to make a few hornsounds to make up for this. The first one I'm releasing is a proper hornsound for the GWR/BR Autocoach.
Diesel 10's Hornsound Updated
I finally found a proper Warship horn, so I used it and updated D10's horn and now it's better than ever before!
Two Talyllyn Engine's Whistles
I've also released two whistlesounds for Sir Haydn and Edward Thomas, the two little engines of the Talyllyn Railway! :D
Enjoy!
Nicholas (Nictrain123)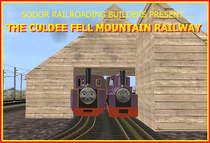 July 4th, 2012 - Culdee Fell Mountain Railway
Ladies and Gentlemen, here is the long-awaited Culdee Fell Mountain Railway ready for you to use in Trainz! Whether climbing the mountain, throwing Godred off the rails, battling the winds of Devil's Back or simply just cruising up and down the line, you'll have plenty of fun things to do here!
Enjoy!
Nicholas (Nictrain123)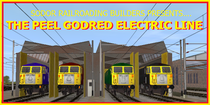 June 28th, 2012 - Peel Godred Electric Railway
After doing the Arlesdale Miniature Railway, I thought of doing the Culdee Fell Mountain Railway but while planning it out I also thought of doing the Peel Godred Electric Railway as a bit of a side project. So I did and here it is! You can deliver aluminum from the Works and transfer it to the steam engines at Killdane while taking passengers to and from the Culdee Fell Mountain Railway (not included) as well!
Just don't misuse the power of electricity! We are not responsible for any injuries you might get by misusing the electric wires.
Enjoy!
Nicholas (Nictrain123)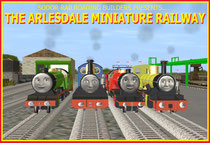 June 8th, 2012 - Arlesdale Miniature Railway
After a prolonged abscene from Trainz, I have finally had the time to resume working on an old project. It is now completed and released on SRB for you all to see! You'll have plenty of fun with the little engines deliving ballast to Arlesburgh, coasting through the countryside with tourists or ticking off Bert by getting him splashed at the 'Lane'! :P 
We assure you that you will enjoy driving around on the route, just as the little engines have fun riding it!
Enjoy!
Nicholas (Nictrain123)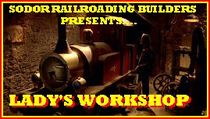 March 31st, 2012 - Lady's Workshop
I meant to release this last month, but I was busy with school finals, got the flu a few weeks ago, and my Trainz was starting to get faulty. But no matter, here is the long awaited next part of our TATMR project, Lady's Workshop! Not much to do here I'm afraid, aside from having a place to store Lady when she's not working, but I'm sure you can find some use for it. ;)
Enjoy!
Nicholas (Nictrain123)
Febuary 26th, 2012 - Alliance with North Western Railway 3D
We here at SRB are pleased to announce that we have formed an alliance with North Western Railway 3D! We agreed to assist with any trouble they have with their content in exchange for helping to make them special promo pictures for their site!
Check them out here:
Nicholas (Nictrain123)
Febuary 25th, 2012 - A Better Horn for Diesel 10
I've decided tha someone should make a proper hornsound for Bob's new Diesel 10 since the AlcO horn dosen't sound right on him, so I did and combined it with Darth Vader's theme song and you get Diesel 10's New Horn!
Try it out and Enjoy!
Nicholas (Nictrain123)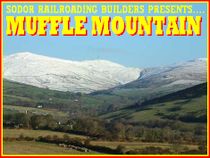 Febuary 24th, 2012 - Muffle Mountain
The next part of our TATMRR Route Project, is Muffle Mountain. When exiting the Magic Railroad, you'll end up on top of a cliff. Watch out for P.T. Boomer's explosions or you'll find yourself racing down the mountain into the valley where there is a small grotto which will bring you back to the Magic Railroad. Make sure to hit it or you'll be stranded! And remember to leave the Coal Truck on the mountain so the Lost Engine can use it!
Enjoy!
Nicholas (Nictrain123)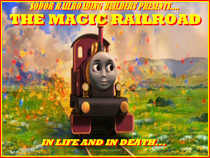 Febuary 22nd, 2012 - The Magic Railroad
In dedication of Marklin's Lady and Bob's Diesel 10 released just a little while ago, we have released the Magic Railroad for you to drive and/or pillage them on. Included is an 'Alive' and 'Dead' version where you can travel to either the Workshop, Muffle Mountain or Sodor (not included) and find the Special Coal Truck and bring it to Lady the Lost Engine to revive her and the railway.
Enjoy! And make sure D10 dosen't find it! ;)
Nicholas (Nictrain123)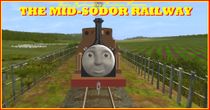 Febuary 21st, 2012 - Mid-Sodor Railway
At last ladies & gentlemen, a Mid-Sodor Railway route has finally been released for Trainz! Set in the 1920's/1930's, it'll give you plenty of fun and nostalga as you take the 'Picnic' through the 'Mountain Road' or run mineral trains to the Port. We hope you and Duke will enjoy the route, and we assure you that the route will indeed suit His Grace!
Soon to come from this route will be the Arlesdale Miniature Railway and the Mid-Sodor Heritage Railway!
Enjoy!
Nicholas (Nictrain123)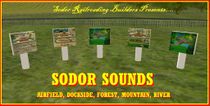 Febuary 19th, 2012 - Sodor Sounds
With many thanks from TheCaley, here is the Sodor Sounds pack with sounds exported from the Thomas & Friends: Railway Adventures game.
While watching the airplanes take off at Dryaw or crusing down a canal, these peaceful sounds will make you feel more at home on Sodor!
In this pack are the sounds of Airfield, Dockside, Forest, Mountain and River.
Enjoy!
Nicholas (Nictrain123)
December 27th, 2011 - NWR Standard Mk1 Coach Pack
This was supposed to be released on Christmas, but I unfourtantly forgot. But now, here is a pack of standard Mk1 coaches that can be used with Gordon, Thomas and the other engines.
Included in this pack are one coach and one luggage/guard van painted in the NWR's standard orange livery, BR's crimson red, NWR's light blue livery (for the 'Limited'), a mail van for 'Travelling Post Office' trains and a royal blue coach for VIP's and royal visitors.
Merry (late) Christmas!
Nicholas (Nictrain123)
December 24th, 2011 - S&M Part I: Kirk Ronan
My first route is now up, S&M Part I: Kirk Ronan! Now you can have a route to drive Richard's S&M Engine's on!
Enjoy!
John (TheHunsletWD0-6-0ST)
September 28th, 2011 - AT LAST!!! IT IS HERE!!!
Ladies, Gentlemen and Engines of all sizes, ages and gauges, I am proud to present the long-awaited ISLAND OF SODOR!!!
The new route features the WHOLE, ENTIRE Island of Sodor from Tidmouth to Barrow and from Arlesburgh to Brendam with a few custom additions such as the Mid-Sodor Heritage Railway (NOT RELATED TO THE SiF'S ERWS ONE).
We hope that you will enjoy this great route, as me and tonyspike did making it!
Nic and Tonyspike
June 05th, 2011 - Hey Apple!! KNIF - OH WAIT, WRONG LINE - NEW RELEASE!!
In commemoration of Ivor being put back to service on iTunes, I have releaased SRB's first site-released whistlesound (other one was on skf with terrence). A medium-toned whistle blast of Ivor with his cruising theme. If there's enough popular demand, more variants of Ivor's whistle will be released in time. Catch ya later!
Nic
March 31st, 2010 -All is Well!
The fourm buisness has been resumed and I am proud to welcome it's first staff member, SkarloeyFan13! He is to help with all future engines and buildings! With his grand help, our models and routes will be more detailed than ever! Also, I have just realized the site is over a year old already and nothing has been done to celebrate it!! (:O When my Trainz copy is fixed, I will get to work on a special teaser for my upcoming project. Any progress will be reported on my fourms. Keep watching for more!
Nic
P.S: Openings for jobs on the SRB Fourms are still open! I need a Security Officer, Co-Admin, Four Judges and a Secondary controller (the job of admin when I am away). If you would like to appl, please send me a PM on either SI3D or SRB. The only people who cannot apply for these jobs are AlexTrainz09, kurl from Islandofsodorrailway.jimdo.com and Anonomous.
September 6th 2010 -New Crew Members
Our site is pleased to welcome the railwayking and tomtomica2 to our site
Ant
September 1st, 2010 - New forums!
I have decided to make a fourms and see how it goes and if it is successful, I will keep it. On the fourms, you can see my upcoming route and GMAX projects and my friend's projects as well. If you want to join the fourms, go to "The Fourm" tab above the news page and below the SRB site logo, next to the "Home" tab. Enjoy!
Nic
August 29th 2010 - Mystery Release
Yallo! I am VERY proud to announce that our first rolling stock piece is now released to SRB. It's a mystery about who it is, so if you want to find out what it is, go to the Misc. section of the Downloads page and be Sherlock Holmes!!
Nic
August 2 2010 - Newest Crew Member!
Hi there everyone im antony (lil spike 1984) and i have joined SRB as a route creator im currently working on a entire sodor island route look for my stuff on the fan layouts section of SI3D forums and the forums here
see you soon
ANT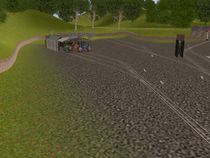 2. Febuary 9th - Mid-Sodor Railway Demo Released!
Good day to you all! MSR No. 2 "Stanley" here! I am proud to announce that me and the crew here at Sodor Railroading Builders has finally released a sample of our upcoming Mid-Sodor route. Please enjoy untill the full route is released! When the full route is released, the demo will be taken off, because it will be included with the whole route. Untill then, enjoy!
Stanley
(NOTE: You need to require some stuff from the DLS and SI3D to help make the route work properly.)
UPDATE
A preview of our first route is finally posted in the "Videos" sections of the site. Check it out!
Best wishes,
Nicholas
URGENT ANNOUNCEMENT!
Victor and Kevin has finally finished fixing all errors/mistakes etc. on the site. So, because of this, the site is finnaly finished! I have to hire some new recruits right now, before some downloads are put up. Expect some new downloads sometime soon!
Best wishes,
Nicholas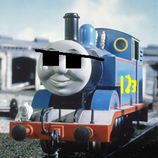 1. Febuary 2010 - The site is online!
Hello everyone! This is Nicholas, the site administrator, with an URGENT announcement! I have just opened the site, Sodor Railroading Builders to the public! But, be warned, the site is still under construction, so no downloads yet, but be on the lookout because the site will be finally ready! There will be a route coming soon, be sure of it! ;)

Best wishes, Nicholas